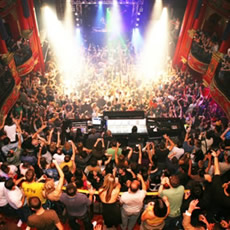 London is of the major destinations in the world for travelers with superb clubs which can be impossible to get into or find unless your dressed up, well connected or in the know and on a guest list. To help your chances of getting in it is advisable to order table service together with your friends which all over maximum spends. These venues can be very exclusive and most are over 21 and are strict on ratios of mixed groups of girls to guys. Right now come of the best clubs in London include Jalouse, Maddox, Aura, Cuckoo, Boujis and Cirque Du Soir. Checking out their websites is often a good tip for getting on the list (see below).
If celeb spotting is your main objective, then dress up and try to get in to MoVida in Soho, one of London's most exclusive clubs. Soho is also where you will find plenty of London's top gay clubs.
Finding the right club for your night out is not hard as long as you know what you're looking for, whether it be drum-n-bass, techno, hip hop, house or jazz. Every neighbourhood has a slightly different vibe but this ought to help get you started. Clubs in London range from the VIP. to the jeans-and-sweatshirt kinds of places where the attitude is maximum. While some clubs are strictly all about kind of music, at others you'll find that every night of the week will be dedicated to a different theme, so again, check with the local bible, Time Out, before hitting the clubs.
A veritable institution in the club scene, the famous Ministry of Sound in South London is recommended for.fans of house to plan to take in a night of music here.
Leicester Square is home to some of the cheesiest & most tourist-oriented clubs, ones where locals usually wouldn't be caught dead, unless perhaps they're trying to select up naive backpackers. So unless your objective is to meet other foreigners, it's advisable to skip this section of town for your club needs and hit up the spots where you can actually stumble on some natives. These bars and clubs also tend to be ridiculously overpriced: the cost of a bottle of beer can approach £5!   You can often find someone in the vicinity giving out flyers to one of the smaller clubs.
Covent Garden is also usually crowded with tourists, although the scene is slightly less frenetic than in Leicester Square. The best way to enjoy this area is to grab a drink at the Piazza, enjoy some people watching and then head out to Soho or another spot.
Shoreditch attracts a hip, arty clientele and here you'll find an amazing club scene with places like Cargo, Catch and Medicine Bar.
Clubbing in London can get pricey but in case you get there early, you can at least save some dough on the cover charges since it's usually cheaper before 10 or 11pm. Sure, you won't be fashionably late, but that's better than paying an obscene cover charge at the door.
The best travel site Great Vacation Spots www.greatvacationspots.net
The best Gossip Magazine Online www.gossipmagazineonline.com